New Monoflap Saddle Range From Jeremy Rudge Saddlery
Recently launched in Europe and now available in the UK, Jeremy Rudge Saddlery has introduced a new range of Monoflap saddles.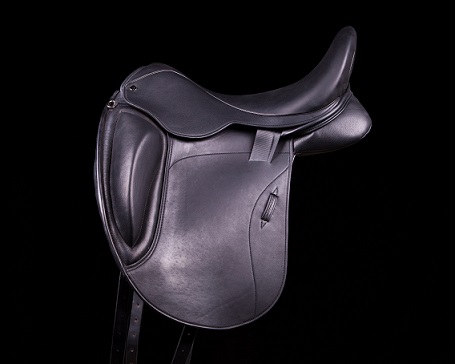 The Fusion Contour Dressage saddle, one of Jeremy Rudge's new Monoflap saddle range
Designated the 'Contour' range, Jeremy Rudge says," There is now an established demand for Monoflap saddles from riders, particularly those involved with dressage, who feel more secure and better balanced through closer contact with the horse. We have always offered a Monoflap design option but the new 'Contour' range now represents a standard manufacturing alternative for all of our dressage, jumping and eventing saddles."
Produced in high quality, full grain soft leather and in a full range of sizes, the new range can be produced with bespoke saddle finishes. These include leather colour choices for the cantle, fore piece or rear facings, coloured welts and personalised stitching or designs.
The new 'Contour' range follows the Jeremy Rudge Saddlery philosophy of building saddles based on a well-fitting tree. Each saddle range for dressage, jumping and eventing has a different configuration of tree, specially selected for different shapes of horse. The tree takes account of width, angle, and bend in the horse's back ie 'true drop'.
On behalf of:
Jeremy Rudge Saddlery Ltd.
Unit 2, College Farm
Bosty Lane
Aldridge
Walsall WS9 0LF
Tel: 01922 455233
Email: sales@jeremyrudgesaddlery.co.uk
Web: www.jeremyrudgesaddlery.co.uk