WELCOME to Equine News And Trade Services Directory!
A website designed to compliment our hard copy magazine and to make information available at your fingertips.
LOOKING for a service provider in the equine industry?
Coming Event, Clinic or Classified
FIND IT HERE! – Equine News And Trade Services Directory
CURRENT ISSUE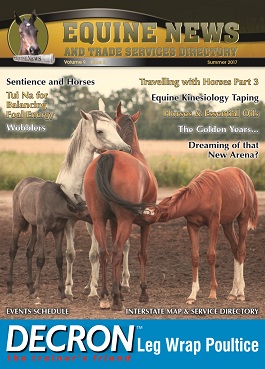 In similarity to our popular hard copy quarterly magazine we have included here –
Our A TO Z Easy-Find Service Directory
offering information on services that are available throughout
the equine industry for both you and your horse.
Whether you are looking for a health professional for bodywork, dental service, hoof care, veterinary or accommodation, agistment, stallion, saddlery, trainer, produce store or product you will find it quickly and easily in categories listed here.
Equine News And Trade Services Directory is a full colour quarterly magazine based on horse health, horse care and horse training options, enjoyed by all disciplines and horse lovers alike, right across the board. Offering interesting reading and informative articles of which are also available for viewing here. Please browse our library of popular articles from previous issues or view the whole issue here!
| | | |
| --- | --- | --- |
| | | |
| | | |
| | | |
| | VIEW PREVIOUS ISSUES | |
| | | |
| View 2011 Issues | View 2012 Issues | View 2013 Issues |
Equine News And Trade Services Directory is available free from produce stores, saddleries and other selected equine related outlets throughout NSW, SE QLD, ACT and VIC, also available by subscription here